Willkommen auf den Centrum-Seiten
Sa 10. Oktober // OVERLOAD/ 2y. POCH POCH REC.
OVERLOAD/ 2y. POCH POCH REC.
Hansmann & Klausing live
Nas\'D & Klausing Live
Jekyll&Hyde
& Champion Sound Floor
Skor Rokswell & Shape
Manche Labels überraschen. Keine Genre-Grenzen, keine Superhelden, einfach handgemachte, ehrliche Musik. Poch Poch Records feiert den 2. Geburtstag mit neuen Releases und dem Saal voller Freunde die zu elektronischer Musik genauso tanzen wie zu orientalisch verspielten Klängen und Hip Hop Stücken. Am 10. Oktober wird genau diese Mischung im Centrum Club Erfurt zu hören sein und neben Hansmann & Klausing sind die Dresdner Super - Raver Jekyll&Hyde sowie die ganze Champion Sound Familie am Start.
---
Mi 14. Oktober // in concert: PENTATONES - LIVE • OUROBOROS TOUR
live in concert:
PENTATONES
OUROBOROS TOUR
Pentatones are pop music in a truly new disguise. Over an electronically tinkered mosaic hovers the voice of Delhia de France, radiant yet mysterious. Her vocals (known from productions with Douglas Greed or Robag Whrume) are enveloped by pulsating beats, bouncing back and forth between here and an imagined acoustic horizon. In collaboration with visual artists pentatones released impressive and award-winning videos and create impressive audiovisual live performances playing at various media art-festivals, such as Ars Electronica as well as huge music festivals like SonneMondSterne.
The glacial romanticism of their last years debut album \"The Devil\'s Hand\"(2012/Lebensfreude rec.) is still intensely vibrant. Hence, the electronic quartet Pentatones is now presenting their new album \"OUROBOROS\".
Pentatones are:
Delhia de France - Vocals/Lyrics
Le Schnigg - Beats/Sampling
Hannes Waldschütz - Bass/Synthesizer
Albrecht Ziepert - Keys/Synthesizer
---
Sa 17. Oktober // DEPECHE MODE-, ELECTRO-, DARK- & 80`s CELEBRATION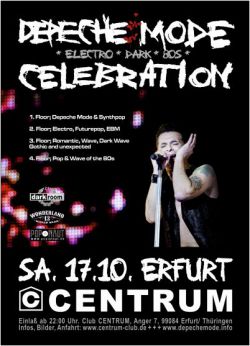 DEPECHE MODE-, ELECTRO-, DARK- & 80`s CELEBRATION
Am Samstag, den 17. Oktober, lädt das CENTRUM erneut zu Thüringens größtem Szene-Event ein; Der \\\\\\\\\\\\\\\\\\\\\\\\\\\\\\\\\\\\\\\\\\\\\\\\\\\\\\\\\\\\\\\"Depeche Mode-, Electro-, Dark- und 80s-Celebration".
Spezielle Dekoration, Videoprojektionen und die passende musikalische Beschallung sorgen auf vier Floors für ein Highlight, das Ihr Euch wie immer, nicht entgehen lassen solltet.
Was läuft wo?
1. Floor: Dieses Mal > 101% Depeche Mode- Songs und Videos by DJ Kai und Micha (Devote)
2. Floor: Futurepop, Electro, EBM mit DJ Elvis (Devote) +
3. Floor: Romantic, Wave, Dark Wave, Gothic, Mittelalter and unexpected by Spinne (Jena)
4. Floor: 80er Jahre-Party mit DJ Heartbeat (EF)
Enjoy the party!
---